I, the loyal servent Salsap Pinepoke, have been sent a message by the Dark Lord.
"Mi Lord, what is it you beg of me this day? I am yours to command!"
"CERTAIN ORTUIP"
Mi lord! What or whom is this Ortuip you speak of?
(No answer)
I shall Cunsult Grand Schoolar Google.
(First Result)
No..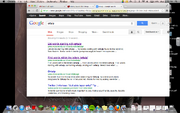 (Second Result)
No...
(Etymology Finder)
NO...
(Image Search)
NO!
What does Lord Inglip Need of me? Anything? Nothing? The priests say I have the true words of Inglip, but can any one help? I must find my Answers! I assume it is an Object Noun, as to have a Certain _____ means he is looking for a specific thing... prohaps a weapon or an artifact... Thats it! He wants us to hunt for something! Every one and All! Look for the Ortuip! Take head of any headings the Dark Lord takes you, and follow whole heartedly! It may be an asset to total domination!
Ad blocker interference detected!
Wikia is a free-to-use site that makes money from advertising. We have a modified experience for viewers using ad blockers

Wikia is not accessible if you've made further modifications. Remove the custom ad blocker rule(s) and the page will load as expected.