Plasper: Wozealso. Pyrawiana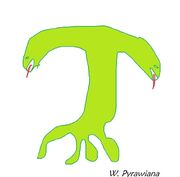 is a blessed plant related to the
Wozealso
but has two large snake-head resembling tips instead off
Wozealso cakes
. The sap from the tree is used as a potion for harvesting Wozealso's.
Potion and Pyrawa disease
Edit
The seemingly dangerous heads of the plant is non-hostile and allows for the collecting of the Pyrawa sap which in turn gives the gropaga consuming it the Pyrawa disease, a non-lethal sickness which allow the victim to ooze a liquid from its armpits which odor calms Wozealso's allowing for safe harvest of the Wozealso cakes.
See also: Ityticin Principle