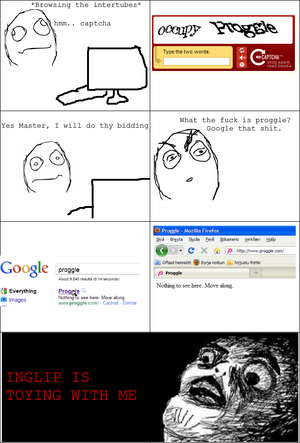 Proggle (or Proggle.com) is an occupied website, owned by a fellow gropaga.
Inglip ordered a Gropaga to "occupy Proggle", when the keyword was searched, it turned out to be a mostly empty novelty website. The doubting Gropaga concluding Inglip was toying with him.
Another follower later sent a letter to the website's owner, who serendipitously happened to be a gropaga himself and gladly "occupied Proggle" with Inglip's passages and hymns.
Ad blocker interference detected!
Wikia is a free-to-use site that makes money from advertising. We have a modified experience for viewers using ad blockers

Wikia is not accessible if you've made further modifications. Remove the custom ad blocker rule(s) and the page will load as expected.