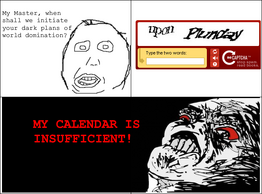 Plunday (January 8) is a day in the Gropagan Calendar created by Inglip that is notable as the day the Gropagas began Inglip's plans to take over the world. Gropagas believe that whether it is a success or not, it should be celebrated, as it is a creation of the Dark Lord.
To celbrate Plunday, among other things, Gropagas should "Jam" their heads together.
Some Gropagas have interpreted Plunday as an added day of the week and not a holiday, but nether Inglip nor his Prophets have cleared the confusion.
Inglip's Rest Day
Edit
Plunday is canonically told to be Inglip's day of rest, upon which the Gropagas should attempt to the best of their collective ability to serve Inglip without disturbing him. This is in accordance with Pg. 3 of A Compiled History of the Gropaga Faith, the manuscript written by Scribe Frappor. It is said that summoning Inglip for prophecy on Plunday is punishable by swift judgment, as cast by Inglip himself.