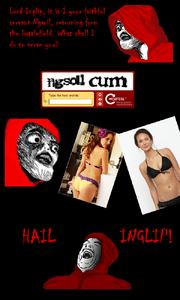 Ngsoil was a Gropaga who, after a long and dangerous battle against the many enemies of the Dectrip Faith, returned to Lord Inglip's presence, asking what else could he do to serve him.
Suprprisingly, Inglip decided to reward the loyal warrior instead, and gave him a harem of beautiful women, ready to satisfy his pleasures (Inglip even ordered Ngsoil to "cum").
"Hail Inglip!" -Ngsoil
"Will Inglip reward female Gropagas too someday?'" -Leissa Schriever
External links
Edit
Ad blocker interference detected!
Wikia is a free-to-use site that makes money from advertising. We have a modified experience for viewers using ad blockers

Wikia is not accessible if you've made further modifications. Remove the custom ad blocker rule(s) and the page will load as expected.