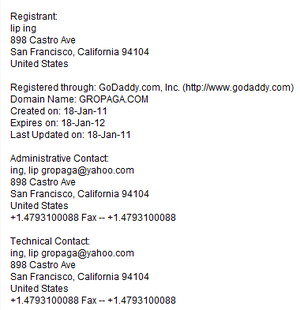 His holy cryptic messages began appearing everywhere but nowhere was considered more holy than the mysterious web site that appeared on 2011/01/18 at Gropaga.com . This web site was said to contain "holy messages" untainted from Lord Inglip. It was requested that all Gropagas should visit this holy place at least once before their death.
The center message of the web site human ornies has yet to be descripted by scholors. Yet it should be obeyed and taken literally as all of His other most holy cryptic messages.
Ad blocker interference detected!
Wikia is a free-to-use site that makes money from advertising. We have a modified experience for viewers using ad blockers

Wikia is not accessible if you've made further modifications. Remove the custom ad blocker rule(s) and the page will load as expected.