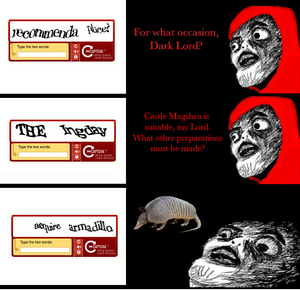 Ingday (or The Ingday) is a day created by Inglip, to be celebrated at Magshea. To celebrate it, gropagas must acquire an armadillo. Gropagas who fail to acquire an armadillo for Ingday are only able to atone for this crime by sacrificing a friend to Lord Inglip. Furthermore, such sacrifices are not allowed to be painless and Inglip commands the Gropagas carrying out the ritual to "stabste forehead".
Ad blocker interference detected!
Wikia is a free-to-use site that makes money from advertising. We have a modified experience for viewers using ad blockers

Wikia is not accessible if you've made further modifications. Remove the custom ad blocker rule(s) and the page will load as expected.